Design @ Modern Maven
since a pretty young age, i knew i wanted to be an interior designer. i studied at and graduated from the art institute of colorado, with a BA in interior design. throughout the years, i have worked on a wide array of projects including retail, hospitality, commercial, medical, military and residential. i am very lucky to be married to an extremely talented man, who is amazing at building things with his hands. in the past few years, we've been able to collaborate on several jobs which has proven to be so fun and rewarding. here are a few images from some of the projects i have designed.
CONTEMPORARY HOME 2012

this home was built in the late 40′s and was in major need of a remodel. i worked with the client on finish selections and lighting. the overall concept was contemporary, yet warm and welcoming, with the incorporation of natural materials.
luc was part of this project as well. he built the custom art slat wall, master bathroom cabinetry and guest bath cabinetry.
OUR HOME 2012
in 2011, we sold a home and were on the path of building new. luc and i had designed something we were very excited about. unfortunately, the process of getting a loan and building a home turned out to be much more difficult than we anticipated. we also learned we were pregnant. suddenly, we were in a hurry to find something. our original hope was to find something older that we could renovate and make our own. instead, we ended up here...in the very first house we visited. we are one of 5 identical contemporary homes, built in a row on the west side of colorado springs. we got the best of both worlds...being in a part of town we love in a contemporary home very similar to what we had planned on building in the first place. the house is narrow and tall, with 3 stories, exposed mechanical systems and metal trusses, and wood floors. it feels very loft like and open.
though the house is fairly new (5 years old when we bought it) there are a few things we have on our list to change and make a bit more of our own. the first was our kitchen. luc built this kitchen himself. the basic layout remains the same (we are pretty tight on space) but the storage we have now is twice of the original kitchen. we used a combination of metallic plastic laminate, white ash wood veneer with satin nickel hardware and glass mosaic tile for the backsplash. the island is built with open shelves on one side and doors on the other and has casters for movability and flexibility. a vertical pull out pantry houses all of our dry and canned food and hidden doors create a paneled wall at the end of stove/oven run, providing storage for liquor, keys and electronics. in addition to the kitchen cabinets, luc built a floating wall shelf for the living area. this houses books and various things and is finished in the same ash veneer to match the kitchen.
CONTEMPORARY HOME 2011
i have the privelage of working with a wonderful client, who loves color and contemporary design. throughout the years, both luc and i have worked on this home. we developed a new paint scheme, reupholstered existing furniture, added artwork and accessories. i also created a white and grey custom felt flora piece for their master bedroom.
photography by g3d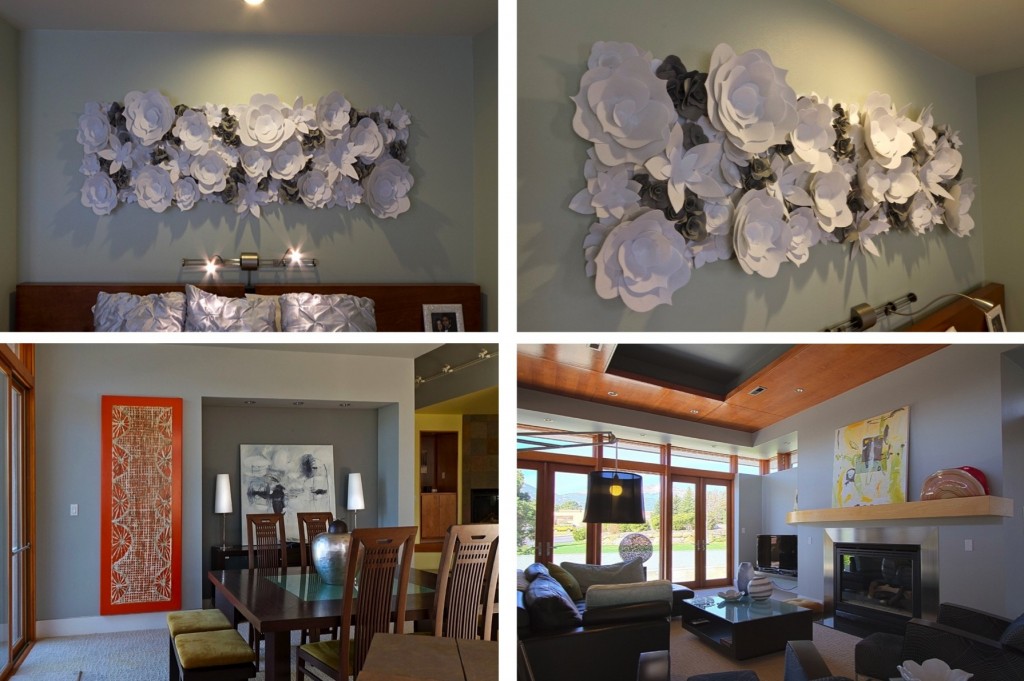 DENVER LOFT 2009
another charity design event, raising money for the KEMP foundation in denver, colorado. over one-hundred designers submitted designs for one of five lofts, located in the watermark denver. five designers were chosen and each given a loft to design. we had a small budget of $12,000 to finish, furnish and accessorize the entire space. my concept was "modern moroccan"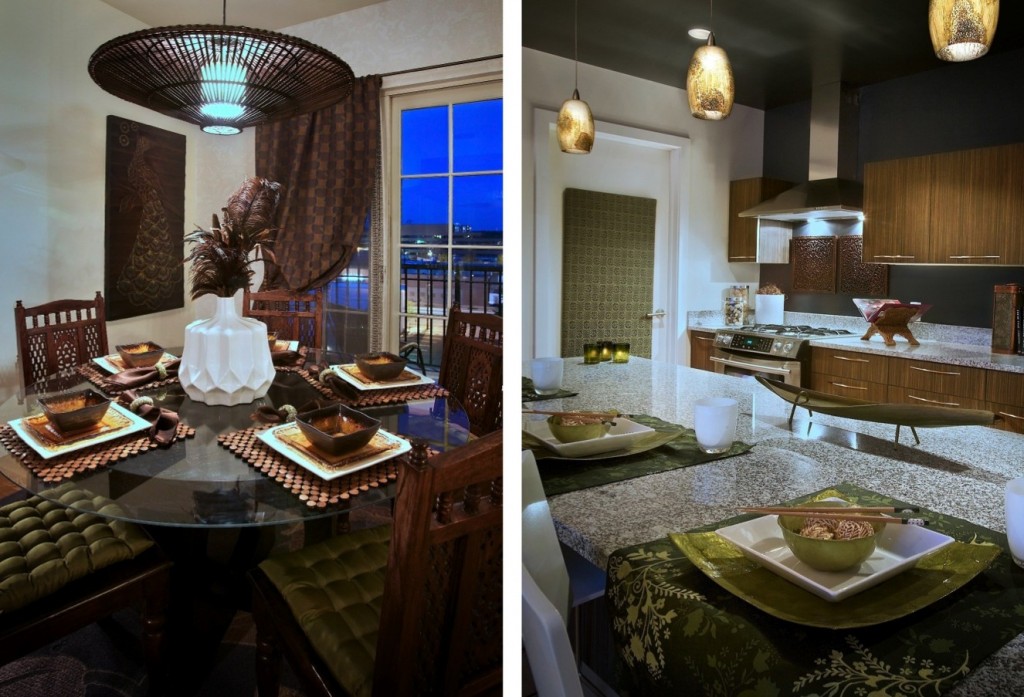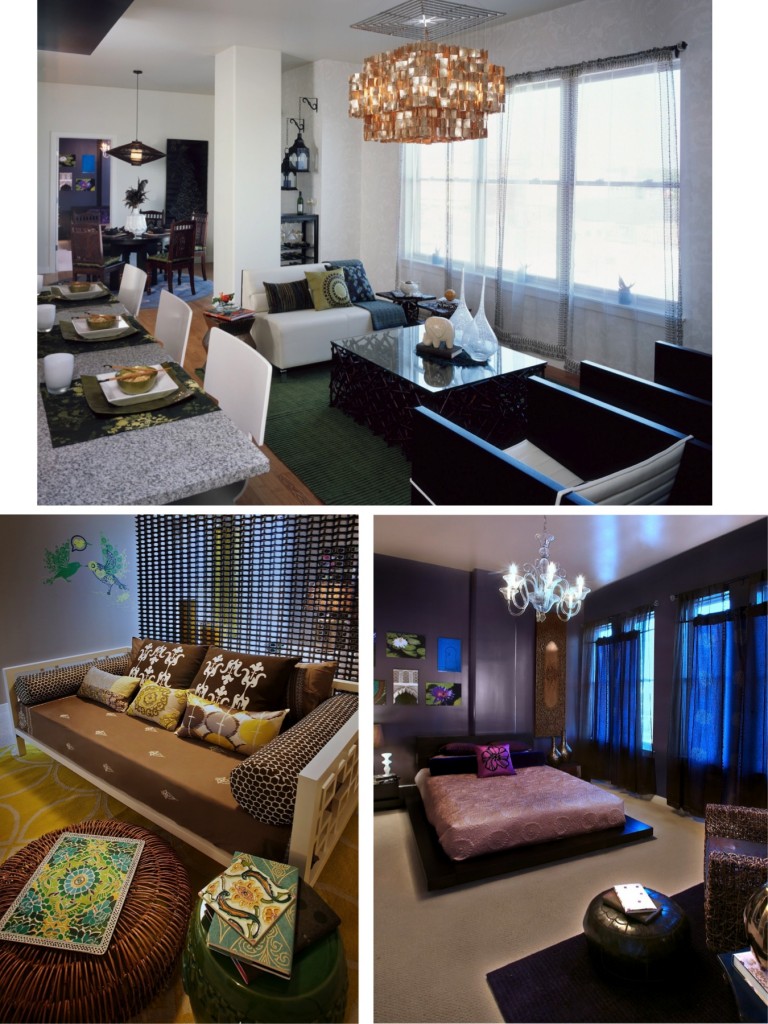 DESIGN FOR HOPE 2010
design for hope was a charity event, i created for my interior design students at pikes peak community college. each student team was given a blank, white box room to design. all items were then silent auctioned and the money was given to CASA of the pikes peak region. we raised almost $40,000!
this whimsical nursery is filled with custom made items. including the fabric drawer dresser, lounge chair and felt flora wall sculpture.